Lenovo ThinkCentre M53 Tiny Desktop

Tiny Footprint, Big Productivity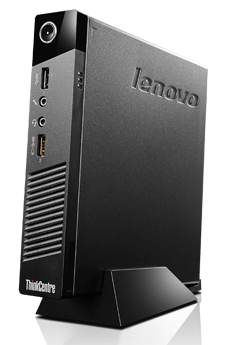 Sorry, this product is no longer available, please contact us for a replacement.
Overview:
This tiny entry-level desktop is powered for productivity and savings, bringing your enterprise the management and security features it needs, with the reliability and power efficiency you want.
Ultra-Efficient Intel Pentium Processors
Operating System Windows 8.1 Pro 64-bit Operating System
Space Savings Micro, Mountable Design Practically Fits Anywhere
Energy Savings Advanced Thermal Design Saves on Energy Costs
Professional Platform Stability Ensures Long-Term Reliability
ThinkCentre M53 offers a full AIO experience with clean cabling and effortless setup. Compatible with all current generation ThinkCentre Tiny products, TIO also delivers unparalleled configurability. Tiny is simply slotted into the back of the monitor which means CPU and monitor can be maintained and upgraded individually – no need to replace or repair the entire system. Perfect for large organizations and any space-constrained environment.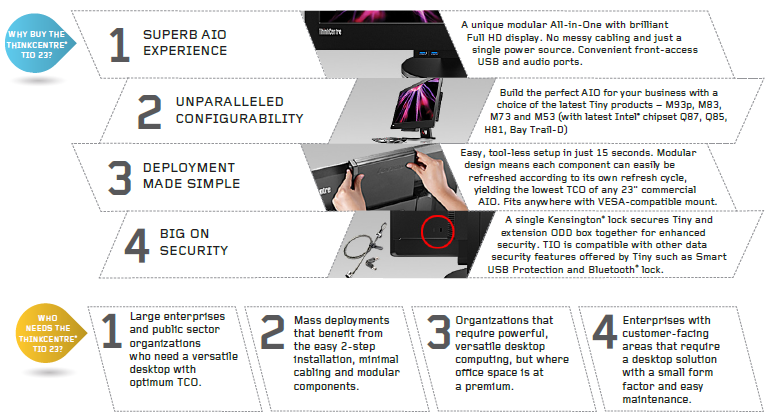 Features:
Tiny Form Factor
Our tiny desktops were the first 1L desktop in the industry. Complete with flexible mounting solutions, including support for standard VESA mounts, Tiny desktops fit just about anywhere, yet they provide a reliable, enterprise-level performance that you can depend on.
Keyboard Power-On
If you choose to mount this compact unit on the back of your monitor, you can still power on conveniently from the front, by simply pressing Alt+P on a USB-connected keyboard. Also compatible with wireless keyboards.
Advanced Thermal Design
Our Intelligent Cooling Engine (ICE) 3.0 is designed to provide a balance between thermals and acoustics, resulting in long desktop life. Choose the performance mode that best suits your work environment, prioritizing temperature or sound. Plus, ICE 3.0 allows for working in hotter temperatures and enables system monitoring with thermal alerts that preempt overheating possibilities, so you don't have to worry about business continuity.
USB Power and Blocking
M53 includes an always-on USB port with Rapid Charge, so you can charge your devices without having to power on your PC. Also, Smart USB Protection means you can block external storage devices, allowing only keyboard or mouse peripherals and protecting your valuable data.
Three-Year Stable Chassis Design
The M53 desktop provides stability for long-term deployments to help reduce transition, qualification, and testing costs, ensuring savings for your business.
Hyper-Fast Wireless Experience
The advanced antenna design provides better signal reception and faster performance from your wireless connection.
PC Cloud Manager 3.0
Keep your PC fleet healthy and green as you effortlessly monitor and manage your desktop's health and power consumption.
Lenovo Solution Center

Lenovo Solution Center provides access to a simplified dashboard that reflects total system health. This hardware diagnostic tool allows quick access to frequently used system management tools, including backup and restore, antivirus and firewall settings, system/software updates, internet connections, and service and support. Drastically speed migration time with ThinkVantage System Migration Assistant. Spend less time manually searching for drivers and software updates with ThinkVantage System Update.

Fast Data Transfer

Move data between the M53 and other devices quickly with USB 3.0 — it's up to 10 times faster than previous USB technologies, and is backward-compatible.

Green Leadership

Certifications like ENERGY STAR and EPEAT Gold mean you'll save money with a more energy-efficient PC. Plus, you can use Desktop Power Manager to customize your power settings and balance power consumption with system performance, helping the planet and your bottom line.


Lenovo Solution Center (monitor not included)
Views:
Lenovo ThinkCentre M53 Tiny Desktops (Click to enlarge)
| | | | |
| --- | --- | --- | --- |
| Desktops (Tiny) | Ports Zoom View | Size View | Attached Back Monitor View |
| Front View | Rear View | Attach Case Optical Drive Front View | Attach Case Optical Drive Rear View |
| Attach Case USB Front View | Attach Case USB Rear View | Rear with Antenna View | Internal Detailed View |
Specifications:
Lenovo ThinkCentre M53 Tiny Desktop
Performance
Processor
Intel Celeron processor J2900
Operating System
Windows 8.1 Pro 64
Windows 7 Professional 32
Graphics
Intel Integrated
Memory
Up to 4GB
Storage
500GB 7200 rpm
Optical Drive
N/A
Physical Security
Smart USB
Cable lock
Kensington lock
Green Value
EPEAT
ENERGY STAR 6.0
Design
Dimensions (W X D X H)
7.04" x 7.16" x 1.35"
Weight
2.91 lbs
Connectivity
Ports
Front : USB 3.0 x 1, USB 2.0 x 1, Mic, Headphone
Rear : USB 2.0 x 3, VGA, Display, RJ45
Ports
2 x 2 802.11 b/g/n combo (WLAN + optional Bluetooth)
1 x 1 802.11 b/g/n
Ethernet
Integrated 10M/100M/1000M Gigabit Ethernet
Fast Charging USB
Yes
USB KB Power-on
Yes
Software
Windows Embedded Standard 7 (WES 7)
Adobe Player & Reader
Citrix Client
VMware® Client
RDP Client
Internet Explorer
.NET Framework
Visual C++
Microsoft Silverlight
Ultra VNC
Lenovo Terminal Operating System (LeTOS)
rDesktop
xfreerdp
Citrix / XenApp View
VMware® View
Mozilla Firefox
NX Client
Java
Services Offerings
Lenovo offers a comprehensive portfolio of services to support and protect your ThinkCentre Edge investment. Focus on your customers and business, not your IT.
Priority Technical Support*
Makes your priority, our priority. 24x7 priority call routing to advanced-level technicians, electronic incident tracking, and rapid response and resolution.
Warranty Upgrades – Onsite and Next Business Day
Maximizes PC uptime and productivity by providing convenient, fast repair service the next business day.
Warranty Extensions (1-to-4 Years Total Duration)
This fixed-term, fixed-cost service helps accurately budget for PC expenses, protect your valuable investment, and potentially lower the cost of ownership over time.
* Not available in all regions
Sorry, this product is no longer available, please contact us for a replacement.